A VoIP call is a method of calling over the internet with usage of data in KB, MB, or may be in GB.It is as simple as normal phone calls. All those facilities are available in VoIP call which are available in normal calls like call waiting, call forwarding, confrencing and etc.
In VoIP call center, data packets travel over the Internet Protocol, rather than the traditional switch network. It converts analog signal to digital signals which are carrying by the network. The call center does not own, host, or operate the equipment that the call center runs on, and instead pays a monthly or annual fee to a VoIP service provider to host the call center telephony in their own data center.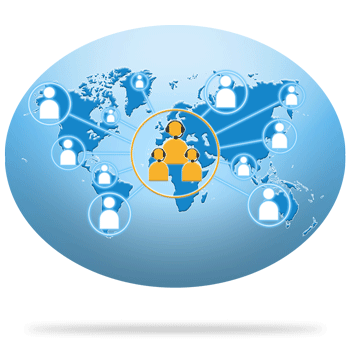 A VoIP call center is hosted by a VoIP provider, rather than hosted on-site at a physical location, and routes calls over Internet Protocol. A business VOIP phone system can reduce your monthly phone bill tremendously compared to a traditional business phone system.
This allows call centers to pay for only the service or minutes that they use, rather than paying for the hardware, an IT director, and a place to store the equipment, making it a much more affordable solution.
A call center is a centralized system for transmitting big volume of information by telephone or any other calling software. There are two types of calling termed known as inbound calling and outbound calling. Inbound calling while we receiving the calls while outbound calls which are transmit through the call center. A call center is place for handling customers of individual communication from different places at a single place including live support system, emails, media and etc.
Inbound Call Center: In inbound calling system campaign wait for calls it comes on a DID and transfers the incoming calls to agents, they attend the calls for further processing. Agents have permission of viewing information about incoming caller ID, call duration. Comprehensive campaign statistics are provided at the end of every campaign, with caller info, call duration and agent data.
Outbound Call Center: In outbound call centers agents make outbound calls to customers on behalf of business. Calls made from call center can be include telemarketing, promotions, updation of services from agents. In this, campaigns allows to call huge list of numbers and while call is received, it plays an IVR sound and waits for pressed some DTMF keys (if required), and than call is transfer to the relevant agents for further processing.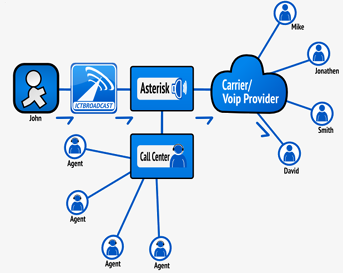 Predictive Dialer is a way to control telephone system by automatically calls a list of telephone numbers checking out no-answer, busy signals, answering machines and disconnected numbers. Predictive dialer are commonly used for telemarketing, surveys, updation and follow-ups. Predictive dialer is a mechanism to auto calling.
BPOs A right contact center technology can enable BPOs to increase their interaction volumes while automating routine functions amidst issues of workforce efficiency, deployment flexibility, scalability and delivering enhanced customer experience.